CLEAR VIEW CASES 1
This set is for the 4x4 hoops.
This case has a clear vinyl front so you can clearly see what is in it. It also has a back tissue case or an optional pocket. Detailed step by step instructions with pictures are included.
This is a super quick project. I know you won't stop at just one! With between only 900 to 1,900 stitches, these only have 2 to 3 minutes of actual stitching time. They have many uses. Some suggestions would be to hold money or credit cards, pills, jewelry, contact lens case and mirror, golf tees, thumb drives, sewing kit, tea bag and sweeteners to name a few. I'm sure you will find many uses for these.
NO OTHER SEWING REQUIRED
Above contact lens case and mirror, tea bag and sweetener, sewing kit, makeup. Below shows the tissue cases back. It does not hold an entire package of tissues but will hold a few folded ones.
Above shows a coin purse, golf tee case, doggy case, and jewelry. Below shows the backs. Notice the top two have an optional larger pocket. For the doggy bag add some plastic bags in the back pocket. Also notice the endless possibilities by using printed fabrics.
Above shows a small Purell bottle, thumb drives, gift card, mini first aide. The case holds the thumb drives perfectly. There is actually a 5th one behind the 4 shown. Gift cards fit perfectly vertically. A ID card will fit horizontally but it needs to be bent a little to get past the zipper. Backs shown below.
There are 10 different decorative zipper stitches included.
Close up of empty case. You can even add embroidery to the part that shows through the vinyl.
This one I made for my grand daughter who is in love with Elmo and fascinated with zippers right now. I fussy cut the back piece to place Elmo in the center.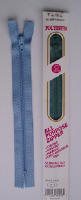 This is the type of zipper that must be used. It MUST be a polyester zipper. NO metal zippers. Coat's brand zipper shown above is available at Jo Ann's Fabrics. It is a 7" All Purpose Zipper.
---
---
Be sure to see all of the Clear View Cases!
Clear View Case 2 5x7 hoop
Clear View 3 jumbo hoop Clear View 4 jumbo hoop.
Clear View 5 jumbo hoop. Clear View 6 jumbo hoop
Clear View 7 5x7 hoop Clear View 8 5x7 hoop
Clear View 9 5x7 hoop Clear View 10 5x7 hoop
Clear View 11 jumbo hoop Clear View 12 5x7 hoop
Clear View 13 4x4 hoop