CLEAR VIEW CASES 10
5x7 hoop
There are 3 different size cases in this set.
The two smaller ones are made to fit the new larger Droid type phones.
The larger case will hold portable hard drives, GPS units, or other small electronics.
The cases have NO RAW EDGES inside and are made totally "In the Hoop" with NO sewing required to finish.
The phone pictured is the DROID X.
The front is clear vinyl. You can actually operate some of the phones functions through the vinyl without taking the phone out of the case.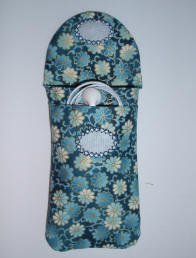 There is a back pocket for ear buds.
All three sizes included.
FINISHED SIZES CLOSED
Small- 3 ¼" x 5 ½"
Med- 3 ¾' x 5 ½"
Large- 4 ¼" x 6 ¼"
Some of the small electronics that will fit the cases. The Nintendo DS lite will also fit in the large case.
Be sure to see all of the Clear View Cases!
Clear View Case 1 4x4 hoop Clear View Case 2 5x7 hoop
Clear View 3 jumbo hoop Clear View 4 jumbo hoop.
Clear View 5 jumbo hoop. Clear View 6 jumbo hoop
Clear View 7 5x7 hoop Clear View 8 5x7 hoop
Clear View 9 5x7 hoop Clear View 11 jumbo hoop
Clear View 12 5x7 hoop Clear View 13 4x4 hoop
---
---