CLEAR VIEW CASES 2
This set is for the 5x7 hoops.
This case has a clear vinyl front so you can clearly see what is in it. It also has a back pocket. This project requires a 9" polyester zipper. Detailed step by step instructions with pictures are included.
This is a super quick project. I know you won't stop at just one! They have many uses. Some suggestions would be to hold jewelry, contact lens case and mirror, cosmetics, sewing kit, to name a few. I'm sure you will find many uses for these.
Finished size is 5 x 6 1/2".
NO OTHER SEWING REQUIRED
The bottom of the front is clear so you can easily see what's inside.
I included 4 designs to get you started but you can easily add designs from your own collection.
Or just use printed fabrics with the blank that is included.
Back of case has a pocket.
Each of the designs above are also included as separate files so you can use them on other projects too.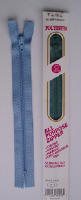 This project requires a 9" polyester zipper. (or longer)
This is the type of zipper that must be used. It MUST be a polyester zipper. NO metal zippers. Coat's brand zipper shown above is available at Jo Ann's Fabrics. It is a 9" All Purpose Zipper.
---
---
Be sure to see all of the Clear View Cases!
Clear View Case 1 4x4 hoop
Clear View 3 jumbo hoop Clear View 4 jumbo hoop.
Clear View 5 jumbo hoop. Clear View 6 jumbo hoop
Clear View 7 5x7 hoop Clear View 8 5x7 hoop
Clear View 9 5x7 hoop Clear View 10 5x7 hoop
Clear View 11 jumbo hoop Clear View 12 5x7 hoop
Clear View 13 4x4 hoop