CLEAR VIEW CASES 4
This set is for the 6x10 or D1 hoops.
This case has two separate pockets with clear vinyl fronts so you can clearly see what is inside. It also has two pocket on the outside. This project requires two 9" polyester zippers. Detailed step by step instructions with pictures are included.
Made in one hooping with out embroidery on the pockets. Two hoopings required if you add embroidery to the pockets.
I'm sure you will find many uses for these.
Finished size is 10 x 5 3/4"
NO OTHER SEWING REQUIRED
Cases folded and held closed with Velcro.
There are 4 different cases in this set. Only two are shown here. The other two not shown match the cases in sets 3 and 4 using the motifs shown below.
There are 4 different insides and pockets.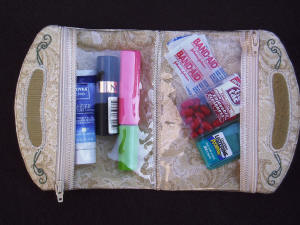 Close up of the zipper and Velcro.
Each of the designs above are also included as separate files so you can use them on other projects too.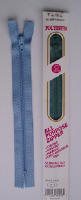 This project requires two 9" polyester zippers. (or longer)
This is the type of zipper that must be used. It MUST be a polyester zipper. NO metal zippers. Coat's brand zipper shown above is available at Jo Ann's Fabrics. It is a 9" All Purpose Zipper.
---
---
Be sure to see all of the Clear View Cases!
Clear View Case 1 4x4 hoop Clear View Case 2 5x7 hoop
Clear View 3 jumbo hoop Clear View 5 jumbo hoop.
Clear View 6 jumbo hoop Clear View 7 5x7 hoop
Clear View 8 5x7 hoop Clear View 9 5x7 hoop
Clear View 10 5x7 hoop Clear View 11 jumbo hoop
Clear View 12 5x7 hoop Clear View 13 4x4 hoop