CLEAR VIEW CASES 5
This set is for the 6x10 or D1 hoops.
This Clear View Case will make a pencil case. The optional grommet insert is made in the first hooping. The rest of the case and the parts stitched together in the second hooping. Detailed step by step instructions with pictures are included.
Make school fun by using fun printed fabrics!
NO OTHER SEWING REQUIRED
The Clear View Pencil Case will fit standard 3 ring binders.
I'm sure you will find many uses for these.
Finished size is 9 1/4" x 6 3/4"
Zipper detail
Grommet insert detail.
The grommet insert is optional.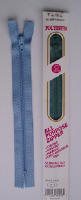 This project requires a 12" polyester zipper. (or longer)
This is the type of zipper that must be used. It MUST be a polyester zipper. NO metal zippers. Coat's brand zipper shown above is available at Jo Ann's Fabrics. It is a 12" All Purpose Zipper.
---
---
Be sure to see all of the Clear View Cases!
Clear View Case 1 4x4 hoop Clear View Case 2 5x7 hoop
Clear View 3 jumbo hoop Clear View 4 jumbo hoop.
. Clear View 6 jumbo hoop Clear View 7 5x7 hoop
Clear View 8 5x7 hoop Clear View 9 5x7 hoop
Clear View 10 5x7 hoop Clear View 11 jumbo hoop
Clear View 12 5x7 hoop Clear View 13 4x4 hoop