CLEAR VIEW CASES 8
This set is for the 5x7 hoops.
There are two different size cases in this set. The smaller one is sized to hold the IPOD Touch. You can even control the IPOD through the clear vinyl with out removing the IPOD from the case.
The larger case will hold small cameras, GPS units or other small electronics.
The cases are padded and fully lined and made IN THE HOOP with NO other sewing required. The vinyl pockets have vinyl flaps that cling to hold the items secure. All held securely closed with the Velcro tab.
BOTH SIZES INCLUDED!
You can even use the ear buds with the IPOD in the case. The IPOD touch screen can be used through the vinyl.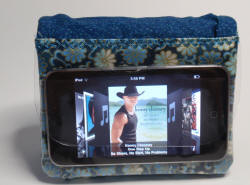 Fold the Velcro back and attach and it will make it's own stand!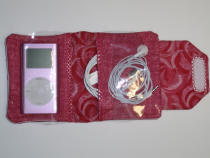 It will also hold other MP3 players.
IPOD CLEAR VIEW 8 CASE
4 ¾ x 8 ¼" open. Not including tab.
design size 127 x 130mm
---
ALSO INCLUDED IS A LARGER CASE
This one will hold small cameras or GPS units.
The Garmin shown measures 3 x 4 3/4 x 1/2"
It has pockets for extra batteries and SD cards. There is room behind the pockets for cords and manuals.
LARGER CLEAR VIEW 8 CASE
6 ½" x 8 ¾" open. Not including tab
design size 127 x 179mm.
BOTH SIZES INCLUDED!
---
---
Be sure to see all of the Clear View Cases!
Clear View Case 1 4x4 hoop Clear View Case 2 5x7 hoop
Clear View 3 jumbo hoop Clear View 4 jumbo hoop.
Clear View 5 jumbo hoop. Clear View 6 jumbo hoop
Clear View 7 5x7 hoop
Clear View 9 5x7 hoop Clear View 10 5x7 hoop
Clear View 11 jumbo hoop Clear View 12 5x7 hoop
Clear View 13 4x4 hoop
CUSTOMER PROJECTS