DOLL HUG-UMS 4
This set is for the 5x7" hoops.
Make these adorable Dolls and Blankies in the hoop. The Doll in one hooping the blankie in a second hooping. The only sewing required is closing the small opening through which they are turned right side out and to attach the blankie. Use fleece for the Doll and a combination of fleece and fabric for the blankie. What a great way to use up scraps of fabric! This is a super easy and quick project with a low stitch count.
Be sure to see all of the Hug Ums.
Froggy Hug-Ums, Angel Hug-ums, Bear Hug-Um,
Gingerbread Hug-Um, Buggy Hug Ums, Ghost Hug-ums ,
Mouse Hug Ums, Duck Hug Ums, Bunny Hug-Ums
All of the blankies are interchangeable in all of the Hug-Um sets.
There are 4 different Dolls and 4 different Blankies.
You can add babies name or birth date to the blankies. All of the Blankies from all of the Hug-Ums sets are interchangable.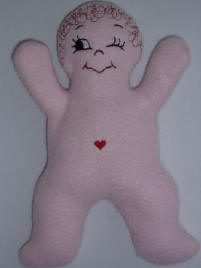 The Doll Hug-Ums have an adorable heart bellybutton!
Click on the heart above to download an applique heart design.
CUSTOMER PROJECTS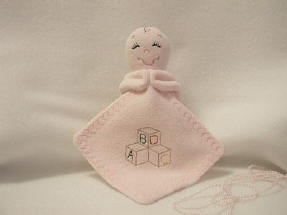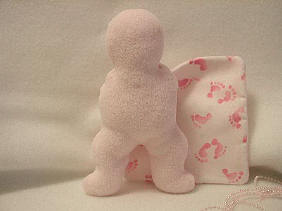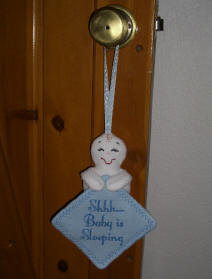 ---
---