DRAWSTRING BAGS 10
DUCKY TREAT BAGS/PUPPETS/PUDGIES
This set is available for the 5x7 hoops.
Actual design size
129 X 175mm.
What a fun way to give a Easter treat! Fill with candy and tie the bottoms. After the candy is gone they become puppets or stand up decorations!
BONUS
Also included in this set are the PUDGIES!
What's a Pudgie?
Pudgies get their name from the way they grow after they are stitched. Use scraps of polar fleece to get that "pudgie" look. Fill with fiberfil and plastic doll pellets (or rice) and the bottoms flatten so they will stand on their own. Finished in one hooping.
Quick and easy. All finished "In the Hoop".
The bags will hold a large plastic egg.
There is also a Happy Spring bag included. There is also a blank bag included so you can add your own words or designs.
All of the Duck Bags and Duck Pudgies have fringe hair!
All 4 of the bag designs are also included as Pudgies.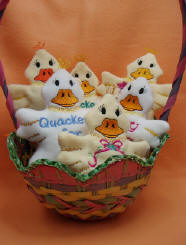 Detail of the fringe.
Be sure to see all of the Drawstring Bag sets also.
BAGS 13 BAGS 14 BAGS 15 BAGS 16
BAGS 17 BAGS 18 BAGS 19 BAGS 20 BAGS 21 BAGS 22 BAGS 23 BAGS 24
BAGS 25 BAGS 26 BAGS 27 BAGS 28
---
---