DRAWSTRING BAGS 21
FLAT BOTTOM BAGS!
Available for both 5x7 hoop and the Jumbo 150 x 240mm hoop.
Each size sold separately.
This set will make drawstring bags that have an expandable flat bottom. This will allow the bags to hold larger items. The bags with the flat bottoms will stand up on their own. They can be made with either clear vinyl windows or appliqué patches that you can add designs from your collection to. Easy step by step instructions with pictures included.
There are 4 different bags plus a blank included in this set.
BAGS ARE MADE WITH ONE PIECE OF FABRIC!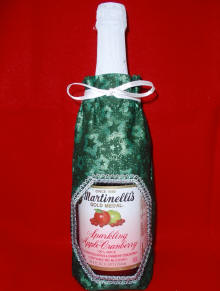 The JUMBO bags will hold a wine bottle. The bottle shown is 3 1/4" diameter and slips in the bag easily.
Finished size of 5x7 hoop bags is 4 3/4 x 6 3/4" Bottom opens to 2" wide.
Finished size of jumbo bags is 5 1/2 x 9 1/2 Bottom opens to 3" wide.
Each size sold separately.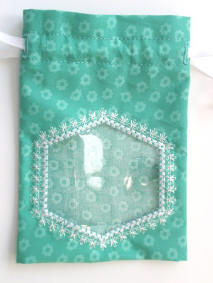 Use the blank file included with printed fabrics. The blank file is 4 minutes stitching time! Make gift bags for any occasion.
Detail of the decorative motif stitching.
5x7 Design size is 127 x 178mm.
Jumbo design size is 147 x 239mm.
Each size sold separately.
Be sure to see all of the Drawstring Bag sets also.
BAGS 9 BAGS 10 BAGS 11 BAGS 12
BAGS 13 BAGS 14 BAGS 15 BAGS 16
BAGS 17 BAGS 18 BAGS 19 BAGS 20 BAGS 22 BAGS 23 BAGS 24
BAGS 25 BAGS 26 BAGS 27 BAGS 28
---
---