DRAWSTRING BAGS 6
This set is available for both the 5x7 hoops or the Jumbo hoops.
Actual design size
JUMBO-149.80 X 236.70mm.
5x7-128.30 x 177.80mm.
Make the entire bag in two hoopings. The buttonholes, casings and final seams are all stitched in the hoop. NO other sewing required! Full detailed step by step instructions included. These are quick and easy to make. Fill them with candy or small gifts. Use printed fabrics with the blank one included for super fast bags and endless possibilities.
Be sure to see all the other Bags sets too!
Both sets have the same designs in them. Both sets include a total of 6 bags including a blank.
5x7 Bags
Above the 5x7 boy and girl Bunny or Dog bags.
The 5x7 above comes with the plastic window set straight also. See the jumbo below. It can also be stitched with out the window.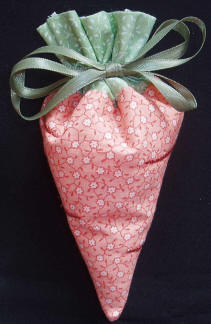 Above is the 5x7 pieced carrot bag. The pieces are all put together in the hoop. No other sewing required.
5x7 Carrot bag Makes a cute decoration too!
JUMBO BAGS BELOW
This one comes with the window set on a 45 angle also. See the 5x7 above.
Endless possibilities using applique fabrics.
Jumbo Carrot Bag. Fill with candy or use for decorations.
Size comparison of the 2 sizes.
Jumbo bags measure 9x5 1/2 inches
5x7 bags measure 6 3/4 x 4 1/2 inches
Jumbo and 5x7 carrots.

Click on the frame above to download a sample.
Be sure to see all of the Drawstring Bag sets also.
BAGS 9 BAGS 10 BAGS 11 BAGS 12
BAGS 13 BAGS 14 BAGS 15 BAGS 16
BAGS 17 BAGS 18 BAGS 19 BAGS 20 BAGS 21 BAGS 22 BAGS 23 BAGS 24
BAGS 25 BAGS 26 BAGS 27 BAGS 28
---
---