EYEGLASS CASES 6
For the 4x4 hoops and Jumbo hoops.
The 4x4 version does require finishing the bottom seam on your regular sewing machine. But everything else is done in the hoop. Including the velcro. You can make these any size you want. From eyeglass cases size to change purse size. Even make a custom cell phone case. I'm sure you will find lots of uses for these. Full detailed instructions included.
NOW also available for the Jumbo hoops. The jumbo version is completely finished in the hoop.
The size of the finished Jumbo version case is 3 1/3"X 6 1/2"
Be sure to specify size! Each sold separately.
Five flap designs included or use your own design with the template file included.
Make the 4x4 version any size you want.
Use printed fabric without a design for super quick cases.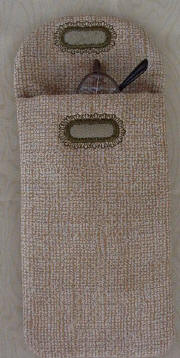 <![if !vml]>

<![endif]>All of the Velcro and seams from about 1 inch below the Velcro are done on the embroidery machine. All you need do is extend the side seam and across the bottom on the 4x4 version.
Inside Velcro closure. All sewn on by the embroidery machine. Perfect every time!
Finished case size. 3 1/3" by what ever length you want. (4x4version)
Actual design size for the 4x4 version is .99.30x98.60mm.
Also now available in sew format 99.30 X 84.20mm.
Jumbo actual design size is 95.50 X 212.40mm.
All the designs are also included as separate files so you can use them on other projects too.
---
<![if !vml]>
<![endif]>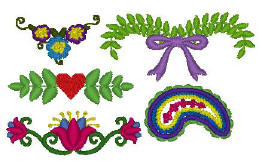 ---
---
BE SURE TO SEE ALL OF THE EYE GLASS CASES SETS.
EYECASE 1, EYECASE 2, EYECASE 3
EYECASE 4, EYECASE 5 EYECASE 7
EYECASE 8 EYECASE 9 EYECASE 10
Click on the circle frame to download.