EZY ZIP CASES 1
5x7 hoop
I call this case Ezy Zip because I have developed a new way to insert the zippers. A channel is created to slip the zipper into. Perfect zippers every time. The case is fully lined with NO raw edges anywhere. Even the zipper tape is hidden on the inside.
All finished in ONE hooping!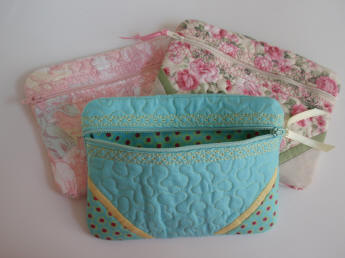 The cases have strip pieced corners and a pocket on the back.
The inside of the case is as neat as the outside.
Finished size of case is 6 ½" x 5"
Design size is 128 x179mm.
PDF Instructions with pictures included.
BE SURE TO SEE ALL OF THE EZY ZIP CASES.
EZY ZIP CASE 2. for jumbo hoop
EZY ZIP CASE 3 for the 4x4 hoop.
EZY ZIP CASE 4 for the 5x7 hoop
EZY ZIP CASE 5 for the 5x7 hoop
EZY ZIP CASE 6 for the jumbo hoops
EZY ZIP 7 for the 4x4 hoop
EZY ZIP 8 for the 5x7 hoop
EZY ZIP 9 for the jumbo hoops
EZY ZIP 10 for the 5x7 hoop
---
---