HATS 1
This set is available for the JUMBO, 5x7 and 4x4 hoops!
A cute alternative from the traditional Christmas stocking. Fill with treats or small gifts. Fleece give these a soft fluffy look but other fabrics can be used too. Made entirely in the hoop except for the tassel. Full detailed instructions included to make Hats and easy tassels. For decorative use.
Be sure to specify size when ordering. Each size sold separately.
Shown below in the stockings are the Bonus design "Penguin Star" and the Pocket Bear. Not included.
Below are some examples of using the blank one with printed fabrics.
And for the guys!
JUMBO HATS 1
The Jumbo size has lots of room for goodies.
In the stocking above is a Candy Cane Topper, the Bonus Penguinstar and the elf from the Pudgies 4 set. Not included in the Hats set.
Below shows the size comparison of the three sizes.
4x4 design size 99.70 X98.60 finished hat size 3 1/2 X4"
5X7 design size 129.70 X 135.80 finished hat size 5 X 5"
JUMBO design size159.10 X 192.20mm finished hat size 6 1/2 X 7 1/2"
JUMBO also resized for D1 hoops
Finished sizes above do not include tassels or ties.
Jumbo set has all the same designs as the smaller sets.
Below shows a hat made from a Christmas print fabric and fleece for the cuff. You can use fleece, felt or woven fabric or any combination of fabrics for unlimited hats!
Click on the 2003 snowflake 3 below to catch it!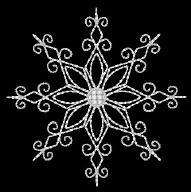 ---
---