JUMBO PURSES 1
Have you ever tried to sew scallops on your regular sewing machine? These will turn out perfect every time because the machine will stitch them. Made entirely in one hooping. Easy step by step instructions included. This is the largest case I have made so far. The finished case measures 5 x 7" when closed. (D1version a bit smaller) You can use as a small purse or little girls purse by adding a cord or skip the cord and use for cosmetic case or camera case. The purses are fully lined and padded on all sides. I'm sure you will find all kinds of uses for these. There is a blank included to add your own designs to. And all motifs come as separate files so you can use them on other projects.
Be sure to see the matching WALLETS 1!
Only have a 5x7 hoop? See the 5x7 Purse1!
This set is for the 6 X10" Hoops including the D1 hoop.
The actual design size is 154.50x253.00mm.
And for the D1 148x239.50mm.
The flower and leaves are applique.
Each of the motifs are included as a separate file so you can use them on other projects too.
Generous sized! Eyeglasses give you an idea of the size. The open case above shows the optional grommets for the cord. They have Velcro closures. All done in the hoop!
Click on the picture to see the coordinating Wallets 1.
Click on the flower to download a sample.
CUSTOMER PROJECTS
Arlene did the above with a quilted fabric.
Leslie sent this pic. Too cute!!!
This is the jumbo purse that I made... I used your design for the purse,
then I used the Parrotlet design from Once Upon A Stitch, and I digitized
the round applique stitch. Put them all together and you have "The Itty
Bitty Birdie Purse".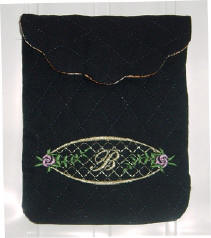 Jen used a quilted fabric for her purse.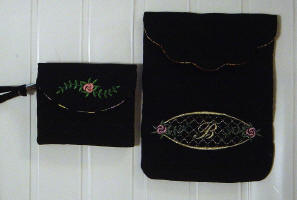 Matching Jumbo Purse and Wallet.
---
---
Be sure to see all of the Jumbo Purse Sets.