JUMBO STOCKING 8
jumbo 6x10 or D1 150 x 240mm hoop
At first glance these look like any other stocking. But turn them around and they have a cuff on the back too. AND they are fully lined with NO RAW EDGES inside!
All finished IN THE HOOP with NO other sewing required.
Detailed step by step instructions with pictures included.
Full detailed instructions with pictures included.
Finished size is 9 1/2 X 6"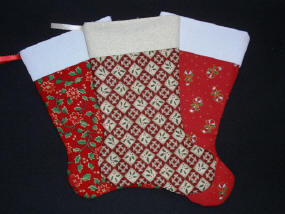 Use printed fabrics for an endless variety.
The stockings are fully lined with no raw edges! This gives them a very professional finished look. This equals higher prices at craft shows.
The cuff is on both the front and the back!

Click on the thumbnail to see a larger picture of the cuffs.
Be sure to see all of the JUMBO STOCKINGS.
JUMBO STOCKINGS 1 JUMBO STOCKINGS 2
JUMBO STOCKINGS 3 JUMBO STOCKINGS 4
JUMBO STOCKINGS 5 JUMBO STOCKINGS 6
JUMBO STOCKINGS 7 JUMBO STOCKING 9
JUMBO STOCKING 10 JUMBO STOCKINGS 11
JUMBO STOCKING 12 JUMBO STOCKING 13
JUMBO STOCKING 14 JUMBO STOCKINGS 15
---
---