JUMBO STOCKINGS 4
This set is for the Jumbo hoops including the D1 hoop.
The design size is 149.10 X 235.50mm.
Made entirely in the hoop. Just stitch, unhoop, trim and turn. Ready to be filled with goodies. NO other sewing needed. Use felt for the base and then use just about any other fabric for the appliquéd top part of the boot.
Also available for the 5x7 hoops. See Large Stockings 11.
Use printed fabric for the tops for endless possibilities!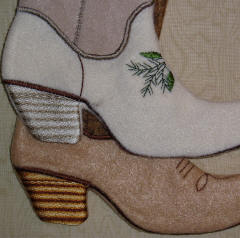 I used variegated thread for the heels on the two above.
Finished size of stocking is 5 3/4" X 8 3/4"
Stitch counts from 7,099 to 9,143
Click on the boot below to download.
Be sure to see all of the JUMBO STOCKINGS.
JUMBO STOCKINGS 1 JUMBO STOCKINGS 2
JUMBO STOCKINGS 5 JUMBO STOCKINGS 6
JUMBO STOCKINGS 7 JUMBO STOCKING 8
JUMBO STOCKING 9 JUMBO STOCKING 10
JUMBO STOCKINGS 11 JUMBO STOCKING 12
JUMBO STOCKING 13 JUMBO STOCKING 14
---
---