POCKET BEARS 1
This set includes both 4x4 and 5x7 Bears.
Cute little chubby bears with a pocket to put money,
a little note, candy or the keys to that new car into!
Add a Happy Birthday music button.
Stitch, trim, turn right side out thru buttonhole in back and stuff.
A unique way to give a money gift.
The dress and pants create a little pocket.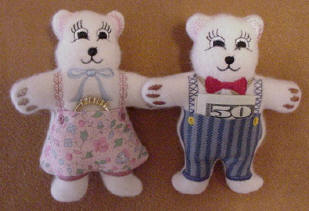 Actual design sizes are,
4X4 size 3.51"X3.91"
5X7 size 4.98"X5.56"
Very quick, 4x4 size 7 minutes sewing time.
The 5X7 size 10 minutes sewing time.
Click on picture to download welcome design.
Will fit 4x4 hoops.
---
---