POST IT STANDS 2
Both 5x7 and jumbo are included.
Turn a 4x6" acrylic frame into a very handy Post it Note Stand.
It's all done "In the Hoop".
The cover slips onto the frame and covers the entire frame, front and back. No part of the acrylic frame shows when finished. The cover has a pocket for the last few pages of the Post It pad to slip into, to hold it in place. And even room for a mini pen or Sharpie.
Blanks are included with instructions if you want to add your own designs or lettering.
Have fun matching fabric with pad and pen colors.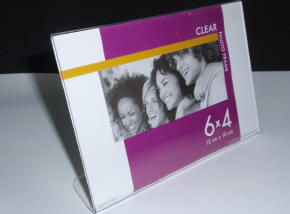 The acrylic 4x6 landscape frames are available at JoAnn Fabrics, Michaels. AC Moore, Dollar Tree and some Walmarts. They are also available online.
In my search for mini pens for the stands I found several options.
I found mini pens at the Dollar Tree. There were 5 pens in a pack.
I found the mini Sharpies work well too.
I also found Crayola Pip Squeaks markers. They come in 16 colors in a pack. But they had the Crayola stripes and writing on them. I found using plain old nail polish remover worked great at removing all that leaving a plain white marker with colored caps. The 16 colors in the pack lets you match the pens with the fabric used or Post It pad.
DESIGN SIZE
JUMBO 158.20 x 173.60mm or 149.00 x 173.60 for hus
5x7 size 128 x 172mm.
NOTE: The 5x7 version does require sewing two straight seams about 1 1/2" to extend the seams.
Be sure to see POST IT STANDS 1.
---
---