PRAIRIE POINT POUCHES 1
This set is for the 6x10 or D1 hoops.
Actual design size is 157 X 254-D1 148 X 240mm.
You will make this Pouch In the Hoop with NO other sewing required. Parts are positioned over stitched guidelines. Just follow the detailed step by step instructions with pictures and you will be amazed.
Stitch, trim, turn and you are done!
The pouch measures 6x10 when finished. The inside is all lined and finished. It will also hold a CD case! (Hus format will not hold a CD)
Detail of the prairie points and the decorative motif stitches.
Use to hold mail or other items you don't want to forget when leaving the house.
Use Christmas fabrics to make Holiday decorations. Or use in place of stockings.
Use nursery fabric for Baby's room door.
You can add your own design or wording to the center panel.
CUSTOMER PROJECTS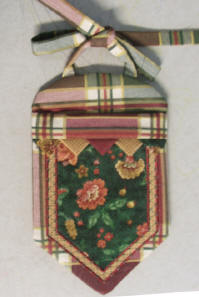 ---
---