PURELL CASES 2
For the 4x4 hoops
Make this "In the Hoop" little cover for the purse sized 1 oz. AND the 2oz. Purell Hand Sanitizer bottles. No more digging into the bottom of your purse to find it. Clip it on to your key ring or any handy place so it will be ready to use when you need it. Clip it onto the kids backpack, or sports bags. You can make these for everyone in the family just by changing the fabric choices. There are several designs to get you started but you can add your own designs to the blank included in this set.
Full detailed step by step instructions with pictures make these easy to make. NO OTHER SEWING REQUIRED!
Be sure to see all of the Purell Cases.
5x7 Purell Cases 1 5x7 Purell Cases 3
There are 6 different bags, plus a blank, each in two sizes for a total of 14 bags.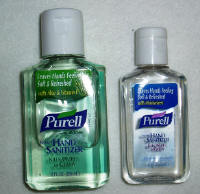 Bags will fit both the 1 oz. and the 2 oz. bottles.
Use the blanks included for printed fabric or to add your own designs. Bags could be used to hold other small items.
ACTUAL DESIGN SIZE
1 oz. 62.80 x 87.30 mm.
2 oz. 78.60 x 96.10 mm.
FINISHED BAG SIZE
1 oz. 2 x 3 1/4"
2 oz. 3 1/2 x 2 3/4"
Each of the designs below are also included as separate files so you can use them on other projects too.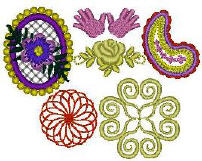 ---
---
It seems the 1oz. bottles in same areas are hard to find. I have found a web site that sells them.
http://www.minimus.biz/SearchResult.aspx?KeyWords=purell
CUSTOMER PROJECTS
I just had to share this!
I made 256 of them and it took 90+ hours, I could do about 3 per hour not counting the time it took cutting them all out and pressing down the top. I thought I would never get done, but I would do it again.
Thanks again for your help.
Dorothy
Be sure to see all of the Purell Cases.