READER CASES 1
Kindle Cases n More!
This set will make an "In the Hoop" NO SEW case for the Kindle readers and others that are becoming so popular. This set includes two sizes of cases.
The cases are padded and fully lined with no raw edges anywhere inside. They have hidden plastic canvas inserts to make them stiff and give more protection.
This set is for the 6x10 or 150 x 240mm. hoops. Only the smaller one can be made in the 150 x 240 hoop.
Large design size 157 x 257 mm.
Large finished size 9 ¾" x 6 ¼"
Small design size 150 x 236 mm.
Small finished size 8 ¾ x 6"
There are two closure choices in this project. I used elastic hair bands for the colored elastic closure on the one below. You can find the elastic hair bands in just about any color to match your fabric. The elastic flips to the back to keep the case closed. A quick flip of the elastic opens or closes the case.
The picture above shows two 5x8 notepads fit easily in the small case. I believe this is just about the same size of the Kindles.
The case shown above is the larger case and it is holding a Kindle measuring 8 x 5 1/4".
The elastic also helps keep the back pocket closed.
Or you can use the Velcro option for the closure. Both choices are included for both sizes.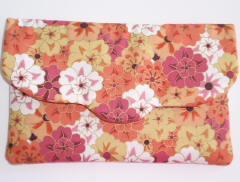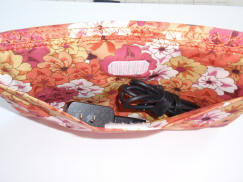 I also give instructions for using the Iron On Velcro to make a closure for the back pocket.
This is the brand of hair bands that I used.
---
---
Be sure to see the other READER CASES.