READER CASES 3
Two sizes of cases are included in this set.
LARGE finished size 9 ¾" x 6" design size 158 x 258 mm.
SMALL finished size 8 ¾ x 5 ¾" design size 150 x 238 mm.
This Case will hold the iPad Mini, Kindle Fire HD 7" and many other readers and tablets.
It is fully lined and padded. There are NO raw edges inside. It has two pockets inside and is held closed with an elastic pony tail holder. The elastic can be replaced easily if it gets worn with use. It is not stitched into the seam.
This case has a paisley quilting pattern on the flap. Or you can just do the decorative row of top stitching to set off the flap.
Kindle Fire HD 7" in the larger case. It has an extra pocket for stylus and other items.
The front flap has a pretty paisley quilting pattern with no jumps.
iPad Mini in the smaller case.
Also included is a non quilted version with a row of accent top stitching that is suitable for men.
Large Case with iPad Mini.
Blanks are included so you can add designs from your own collection. This is an easy project to add designs to the flap since it doesn't have the Velcro on the flap.
You do have to sew the button on by hand.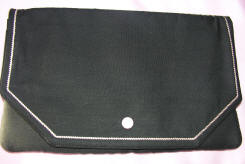 Or you can do as Audrey did, she skipped the Velcro parts and used a Kam snap on her case.
---
---
Be sure to see READER CASES 1 and READER CASES 2.