SNAP TOP CASES 2
150x240, 160x260 and 180x300 hoops
This is another fun In the hoop project. They get their name because the tops "snap" closed. The secret is they use 2 pieces cut from an ordinary carpenters metal tape measure inserted in a casing along the top. They snap open and snap closed. They are fully lined and padded with NO raw edges. Even inside!
There are files for the 150 x 240, 160 x 260 and the 180 x 300 hoops.
They will make three different sized cases.
Finished sizes are 5 ½ x 4 ¾", 6 x 5", 6 ½" x 5 ¾"
There are 4 different cases plus a blank included in this set. Each in 3 sizes.
The cases are padded and fully lined with no raw edges.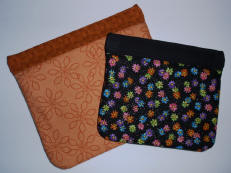 Have fun picking coordinating fabrics.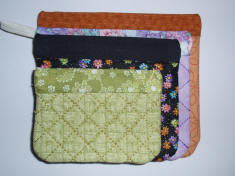 Above shows the size comparison of 5x7 SNAP CASES 1 and the jumbo SNAP CASES 2. The green one is from set 1.
---
---
Be sure to see SNAP CASES 1 too!
For this project you will need the following items.
Any length metal tape measure as long as the metal tape is 3/4" wide. It must be a curved tape, not flat. The 16' Stanley one was about $5.00 at K Mart. You use 11-13" for each purse, so you can make quite a few cases with one 16" tape. You will need some sort of snips to cut the metal tape. The Fiskars one shown worked fine. You will also need plastic electrical tape. You can buy it in colors. I suggest white. It will be used on the cut ends of the metal tape to protect the fabric. All of the above can be found at Home Depot, Lowe's or any hardware store.