TOWEL TOPPERS 1
Now available for the 5x7 hoops too. Design size 100.40 X 178.70mm.
Jumbo design size 100.40 X 239.40mm.
You can make the entire Towel Topper in the hoop. The towel is detachable so you can wash just the towel and not the topper every time. They have Velcro closures sewn on by the embroidery machine. No other sewing required. Detailed step by step instructions included. I have included four designs to get you started. I have also included a blank so you can have fun using some of the designs in your collections. Use the blank version with printed fabrics to make these super quick. You can also add a matching design to the towel itself.
The finished Towel Topper fronts are the same size in both sets. It's just the back that is different.
Please be sure to specify size when ordering to avoid delay.
Use seasonal printed fabrics for super quick gifts.
Above shows the built in band of fabric in the back to hold the towel.
Above shows the difference in the backs of the two sizes.
Above shows the 5x7 size back .
Click on the motif below to download.
CUSTOMER PROJECTS
Carol C. sent me this picture of what she did with the blank towel topper included in the set.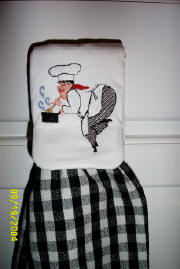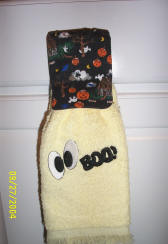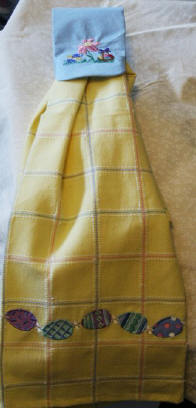 ---
---