WALLETS 1
This set is for the 6 x10hoops, D1 hoops AND the 5x7 Hoops!
Actual design size is Jumbo 239.80 X 118.70mm.
5x7 version 177.70 X 117.70mm
PLEASE SPECIFY SIZE WHEN ORDERING
This Wallet is made entirely in the hoop. It is made in two hoopings but there is NO other sewing required. It has a secure zippered coin area, slots for credit cards or drivers license and a pocket on the back. Add a key chain to the zipper pull and you have a handy key case.
This set coordinates with the JUMBO PURSES 1 set. Make a matching set.
Detailed step by step instructions with pictures included.
JUMBO VERSION
Open the wallets measure 9 1/4 X 4"
Folded they measure 3 1/2 X 4"
The zippers can be stitched so they are exposed or hidden.
All 4 coordinate with the Jumbo Purses 1.
Blank also included so you can add your own designs or use with printed fabric.
5 X 7 WALLETS 1
NOW also available for the 5x7 hoops!
Same as the Jumbo version except these only have 2 card pockets.
5x7 Version measure 4 X 6 3/4" open.
Size comparison of the two sizes.
Each of the motifs below also come as a separate file so you can use them on other projects.
Click on the oval below to download.
CUSTOMER PROJECTS
Arlene made the case above and below. She used a quilted fabric for the outside and regular fabric for the inside parts. She also used a fabric strip for the zipper pull. Great job!
Jane used two different fabrics for a different look!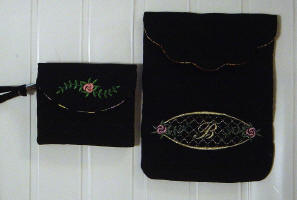 Arlene sent me the pictures of the Jumbo Purse and matching wallet.
---
---
See WALLETS 2 also.