CELL PHONE CASES 2
This set is for the 5x7 hoops.
You will make the entire Cell Phone Case in the hoop with no other sewing required. Two sizes are included in this set. The cases are fully padded with felt and lined. The larger case will fit some of the smaller digital cameras. These are very quick to stitch. They have an elastic casing closure instead of the velcro closure. Just follow the easy instructions of layering fabric pieces over stitched guidelines. Full detailed instructions including step by step pictures included.
Two sizes are included in this set. The larger would be great for some of the smaller cameras!
Smaller finished case 3 X 4 1/4" closed
Larger finished case 3 3/4 X 4 3/4" closed
Both sizes come with all the designs shown and a blank. Total of 10 cases.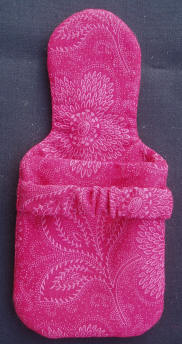 Use printed fabrics with the blank included for super quick cases! Or add your own design.
Above shows my cell phone in the smaller of the two sized case.
My phone measures a little over 1 1/2" wide by 1" thick and 3 and 1/4" high. My phone fits loosely in the case.
---
---
Click on the heart to download.
PROJECTS BY CUSTOMERS
Cell Phone case by Leslie.
Be sure to see all of the Cell Phone Cases.