JUMBO BEAR HALLOWEEN COSTUMES 1
This set is for the 6x10" or D1 hoops.
Actual design size is 148 x 215mm.
Dress up the bears in the Jumbo Bears 2 set for Halloween!
Made in the hoop with no other sewing required.
Don't have a Jumbo Hoop? See the 5x7 Costumes for the 5x7 Hippy Bears!
BEARS NOT INCLUDED!
The costumes fit JUMBO BEARS SET 2 ONLY
Will NOT fit Jumbo Bears 1
Turn your Valentine Bears into Halloween Bears!
Pumpkin Bear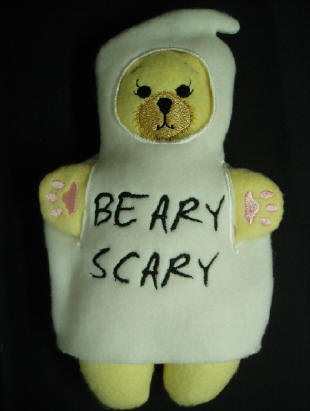 Ghost Bear
Devil Bear
This one has a pocket for goodies!
Candy Corn Bear
I used the blank included in the set with a printed fabric for this one. The tail is just a piece of shoestring enclosed in the seam.
BEARS NOT INCLUDED
JUMBO BEARS 2 must be purchased separately.
Will NOT fit Jumbo Bears 1
Click here to see Jumbo Bears 2
Click on the notes to download in 3 sizes.

More music notes to download on the iPod Cases 1 and iPod Cases 2 pages.
CUSTOMER PROJECTS
---
---