MEMO COVERS 9
This set is for the 5x7 hoops.
Actual design size is 121 X 163mm.
This Memo Cover fits the common 4 X 6" side spiral notebooks. It has a front pocket for a pen. It also has a decorative strip piecing insert. This is all easily done "In the Hoop" by just laying pieces of fabric over stitched guidelines. They will be perfect every time since the guidelines and seams are all digitized. Very detailed step by step instructions with pictures are included.
Be sure to see the matching Checkbook Covers 3.
Three different Covers plus a blank are included.
Front pocket holds full size pen.
All seams are finished turned seams. No raw edges showing anywhere.
Detail of the decorative strip pieced inserts.
This is the common 4x6" side spiral notepads it fits.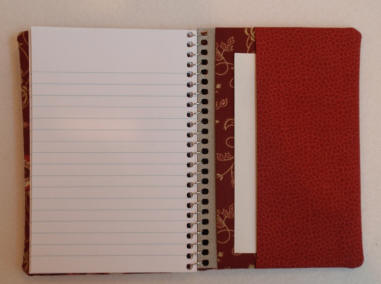 You can add an optional back pocket.
This is the detail of the stitches that join the two parts along the spine. The seam disappears.
---
---
Be sure to see all of the other Memo Covers.
Memo Cover 1 Memo Cover 2 Memo Cover 3
Memo Cover 4 Memo Cover 5 Memo Cover 6
Memo Cover 7 Memo Cover 8 Memo Cover 10
Be sure to see the matching Checkbook Covers 3.