POST IT STANDS 1
Turn a 4x6" acrylic frame into a very handy Post it Note Stand.
It's all done "In the Hoop".
The cover slips onto the frame and covers the entire frame, front and back. No part of the acrylic frame shows when finished. The cover has a pocket for the last few pages of the Post It pad to slip into, to hold it in place.
Both 5x7 and jumbo versions are included.
5x7 design size 122 x 173mm
jumbo design size 128 x 239mm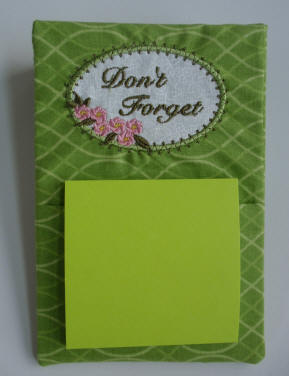 There is a pocket to slip the last few pages of the pad into to hold it in place.
Blanks are included so you can add your own wording or designs you may already have.
So quick and easy to make. These will make a great bazaar seller.
Turn this in to this!
Five different appliqué frames are included as separate files so you can use them on other projects. Five different "Don't Forget" fonts included.
The acrylic 4x6 portrait (upright) frames are available at JoAnn Fabrics, Michaels. AC Moore, Dollar Tree and some Walmarts. They are also available online.
Be sure to see POST IT STANDS 2.
---
---